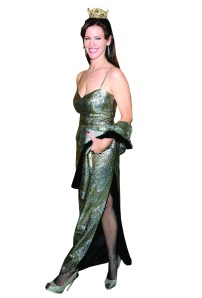 "I just adore burlesque queens," rail-like Broadway bard Tommy Tune told the Transom at the premiere of Behind the Burly Q, Leslie Zemeckis' documentary about the history of American burlesque (featuring the delightful Alan Alda, son of burlesque comedian Robert Alda), at MoMA's basement screening room on Monday, April 19. "I just love the whole kit and kaboodle," continued the effete Southerner. "When they just have it all out and shake it in your face, it doesn't do anything for me. But burlesque striptease is just fabulous. Who's that modern burlesque actress? Ohh, what is her name?"
"Lady Gaga?" asked another reporter.
"No, no. Ooooh, yes! Dita Von Teese, love her. She's the real thing."
The flame-haired Ms. Zemeckis descended the stairs robed in a floor-length metallic brocade gown, a matching brocade stole, black fishnets glimmering through the thigh-high slit and a tiara perched on her crown. She was accompanied by her husband, Robert, who won an Oscar for Forrest Gump in 1994. "I give her a few ideas," he said.
"You know, Leslie, Sharon [Stone] and I have the same manager, Chuck Binder, so we all know each other through him," actor Steve Guttenberg told the Transom-other Binder clients are Robert Wagner, Jacqueline Bisset and Daryl Hannah-"and I've heard from him how talented Leslie is, so I wanted to come. And I was excited Sharon was in town. We did Police Academy 4 together. Whenever she's in town, a big 'S' is written in the sky."
Ms. Stone arrived also in fishnets, a sleek Dior tweed suit dress and bicep-length black leather gloves. "An evening about striptease and nudity," she said, introducing the film. "I couldn't imagine why they asked me to host."
After the screening, the whole flock traveled by foot to the 21 Club three blocks away. In a strategically rumpled pink dress shirt and matching hair, Wall Street star Michael Douglas greeted Mr. Zemeckis with a hearty back pat. "Those women were so candid!" he added to Ms. Zemeckis. "You were so good at getting them relaxed." And, during a lull in the conversation, "So, my son is being sentenced tomorrow"–to which the couple responded with somber sympathy.