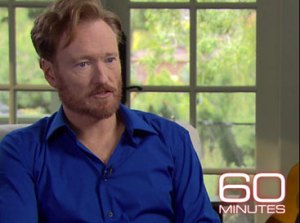 On Sunday night, 60 Minutes will air the first major TV interview with Conan O'Brien since he left NBC.
Today, CBS News released a few tidbits from Mr. O'Brien's interview with Steve Kroft.
At one point, Mr. O'Brien tells Mr. Kroft that (surprise, surprise) he would have handled the whole Tonight Show clusterfuck much differently than Mr. Leno:
He went and took that show back and I think in a similar situation, if roles had been reversed, I know–I know me, I wouldn't have done that…If I had surrendered The Tonight Show and handed it over to somebody publicly and wished them well– and then…six months later. But that's me, you know. Everyone's got their own, you know, way of doing things.