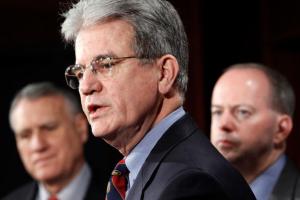 Conservative Senator Tom Coburn is doing his best to give low-riding CNN a little lift. At an event in his home state, the Oklahoma senator told the hometown crowd that they should give the middling, middle-of-the-road news network a shot.
The senator urged his audience to "stay informed on the issues" and not "just watch Fox News or CNN — watch 'em both."
The crowd was skeptical. They jeered when he said Nancy Pelosi was a good person and that they shouldn't buy Fox's characterization of her.
If Watch 'Em Both! doesn't work, Ross Douthat has other ideas.