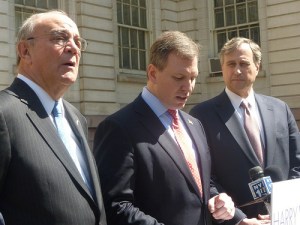 The heads of the Republican and Conservative parties, which are at war with one another over nearly every statewide candidate, made an appearance together at the launch of comptroller candidate Harry Wilson's statewide tour today, which took place on the steps of City Hall.
State Republican Chairman Ed Cox and State Conservative Party Chairman Mike Long stood on either side of Wilson tried to keep the focus on his candidacy, not their very public feud.
"I think we're hear to talk about Harry Wilson and not anybody else," said Long.
"Let me say I couldn't have said it any better than Chairman Long," said Cox.
When asked why this is the only candidate both Cox and Long agree on, Wilson stepped forward and said, "I'm that good."
Wilson said the current state comptroller, Tom DiNapoli, voted as an assemblyman for many of the same out-of-control spending legislation that is currently harming the state's finances.
Conservative Party county leaders recently voted in a sort of straw poll to endorse gubernatorial candidate Rick Lazio, but the official endorsement won't come until the convention. Steve Levy's supporters have highlighted that distiction, implying that they can pick off Conservative Party delegates before then. Mike Long brushed that notion aside.
"The Conservative leaders of this state run the party," said Long, in a scrum afterward. "The very same people who voted for Rick Lazio are the very same people that will vote again, and issue the Wilson Pakula, after our state convention."