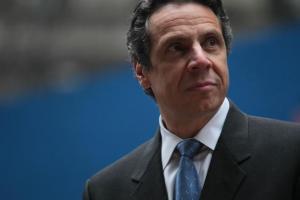 Andrew Cuomo held a press conference–in person!–to discuss the raid on Pedro Espada's office this morning by agents from the AG's office, the I.R.S. and the F.B.I.
Cuomo, speaking inside the lobby of 120 Broadway in Lower Manhattan, declined to say if Espada should step down, and brushed aside Espada's comments yesterday that this probe is politically motivated.
The Eastern District of the U.S. Attorney's office is also looking into the matter, Cuomo said. He did not rule out the possibility that the Southern District may also be actively investigating Espada.
At issue is Espada's multimillion-dollar compensation and array of personal expenses paid for by the nonprofit. But when asked to define the line between being a well-paid executive at a nonprofit, and looting a nonprofit, Cuomo did not point to a specific explanation.
"It depends on the facts and the circumstances of the case," said Cuomo. "Fourteen million dollars over five years, nobody is going to argue that that's fair. Severance package of one year bonus for every year served–we do a lot of work on pensions, a lot of work on bonuses. Even we never heard of that arrangement."