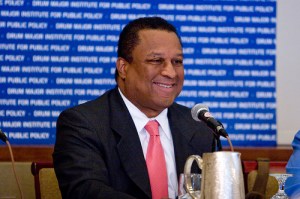 Charlie King, who once ran as Andrew Cuomo's lieutenant governor before running against him for attorney general, was just named the new executive director of the state Democratic Party.
Cuomo is poised to take over the party when he becomes their gubernatorial nominee. Liz says the move gives Cuomo more control of the party, since the current chairman of the party, Jay Jacobs, was appointed by the guy Cuomo wants to replace, Governor David Paterson.
King told me his relationship with Cuomo is strong, because of the rocky road they've traveled together.
"It's strong," he said. "When you go through the ups and downs that we've gone through, and emerge and you still have a relationship intact, it's actually stronger than if we never went into that down."
"It's stronger than it's ever been, to be honest with you," King said.