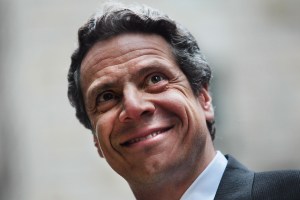 For 1,196 straight days, dating back to 2006, Andrew Cuomo has ignored NY1's offer to sit down for a television interview, preferring, as The Times noted this morning, to hold public conference calls and occasionally lambast the press corps off-the-record.
And so what if it rankles reporters?
New Yorkers don't seem to care. A Quinnipiac poll out this morning says 74 percent of people approve of Mr. Cuomo's job as attorney general–a job that allows him to tout his big victories by press release, rather than risk some pesky anchor making his blood boil.
Mr. Cuomo is beating his gubernatorial competition 2-1, so, until there's a backlash and he has to actually announce his candidacy, we imagine the conference calls will continue.