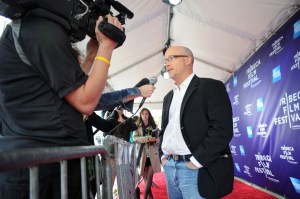 Everybody knows how it ends. But nobody really knows why he did it.
The new documentary (still unnamed) about Eliot Spitzer opens with a commercial from his 2006 campaign for governor, in which the booming voice of Mr. Spitzer says that he walked, as attorney general, into the "buzz saw" of Wall Street's corruption guided by one question: "I simply asked if it was right or wrong."
Seconds later, the film cuts to Times Square, where a giant screen shows the press conference at which Mr. Spitzer resigned as governor of New York, days after news broke that he had been patronizing prostitutes. Cars whirl by, pedestrians are a blur, and Mr. Spitzer's face looms over streets with a frozen grimace that has since become the icon of the scandal.
The film's writer, director and narrator, Alex Gibney, has created a two-hour retrospective of Mr. Spitzer's rollercoaster career, from his contentious fights with leading figures on Wall Street–Hank Greenberg, Ken Langone–to his style of governing Albany with name-calling. And, of course, there are the hookers.
It's a pretty good examination of how a political star veered head-on into a brick wall.
After the opening scenes, Mr. Spitzer appears on camera, sitting in the middle of a fluffy couch with one leg slung over the other and his arm stretched over the back of the couch. He does not look nervous.
Mr. Gibney's interview, for the most part, is safe territory for Mr. Spitzer. Were you too tough on Hank Greenberg of AIG? ("It is the big lie," Spitzer said, "The books were being cooked.") Did you really threaten the venerable businessman John Whitehead? ("I hope I didn't say that.")
At times the film feels like a modern take on the famed Frost-Nixon interviews, in which Mr. Nixon defended himself thoroughly through 12 sessions, before Mr. Frost asked the former president why he did what he did. Mr. Nixon's eyes water, the camera zooms in, and the earlier interviews are mostly forgotten.
One hour into Mr. Gibney's movie, we come as close to the seeing Mr. Spitzer have his Frost-Nixon moment, though it's not nearly as good, and the reason he offers up for his actions that unlikely to elicit sympathy from anyone.
The exchange:
Mr. Gibney: One question is, 'Why, why hookers?' particularly when that's illegal.
Mr. Spitzer: Again, I don't want to delve in, certainly don't want to speak for others. Even in my own case, I don't want to speak to that issue except to say that [I] caved in to temptations in a way that perhaps is secure, perhaps it's, in some very twisted way, less damaging."
"Less damaging how?"
"Than having affairs or relationships that take on a different tenor."
"I'm sorry, what?"
"Than relationships that take on a different tenor."
"You mean have some sort of emotional –"
"Perhaps, yeah."
And there it is. Mr. Spitzer chose the better of two ways to cheat on his wife. Not that endearing.
That's as far the audience gets inside Mr. Spitzer's mind, but what Mr. Gibney shorts the audience on catharsis, he makes up for on the legal aspect of the events.
The film suggests that Mr. Spitzer was the victim of a Republican administration that singled out him.
As the story goes, the U.S. Attorney in the Southern District, who prosecuted the case, was Michael Garcia, whom Mr. Gibney notes is "a Republican." (Neither Mr. Garcia nor any law enforcement officials appear in the movie.) According to the film the FBI "naively" asked the Manhattan district attorney, Robert Morgenthau, if men who solicit hookers are ever prosecuted. They aren't. Prosecutors were "suddenly spending enormous resources" busting prostitution rings.
The prosecutor's complaint against the escort service Mr. Spitzer patronized has a few short entries on eight anonymous clients, followed by "five riveting pages" on "Client 9," with enough details about the Washington rendezvous for any intrepid news outlet to track down the man's identity.
"Was the writing meant to convict the accused or embarrass the client?" Mr. Gibney, as narrator, asks rhetorically.
One call girl who met frequently with Mr. Spitzer claims that prosecutors asked her if she and this client used any sex toys. The woman, identified in the film as "Angelina" says she took umbrage with the questions and declined to provide such details. (Angelina is actually a petite, strawberry blond actress who was hired to "perform" the words of the real hooker who met with Mr. Spitzer. The woman agreed to speak to Mr. Gibney so long as her name, image, and voice were not revealed.) Angelina said an FBI agent that interviewed her "wanted to get some kind of information about some kinky sex stuff," about her famous client. There was none, she said.
Federal prosecutors may have been aided by Mr. Spitzer's powerful enemies on Wall Street, Mr. Gibney speculates. The likely culprit, Ken Langone, denies the charge. "I didn't have any private [investigators] on him." But footage of Mr. Langone's interview on CNBC describing a "friend" waiting on line behind Mr. Spitzer as he purchased an unusually large amount of money orders undermines Mr. Langone's denial.
Ashely Dupre, who was part of the encounter detailed in the court documents, did not participate in the movie after she requested editorial control, and Mr. Gibney declined.
A former co-worked of Ms. Dupree, Cecil Suwal, dismissed the idea that Ms. Dupre was Mr. Spitzer's favorite call girl, calling their trysts a "one night stand," (several night stands, as we understand it). There are a few cuts one of Ms. Dupre's opportunistic media appearances, with is footage of Giraldo Rivera's show on Fox News where he describes her as an aspiring singer and hands her a microphone, after which she belts out a few tunes. (Apparently Ms. Dupre is talented in other ways. In one of the more tawdry moments of the film, a former co-worker, Ms. Suwal, says Ms. Dupre was a popular girl in the agency, speculating that the young lady from New Jersey may just indeed have "perfect coochie." OK!)
If Mr. Spitzer stonewalls, and Mr. Langone unconvincingly denies, it is Ms. Suwall, a bubbly, almond-eyed girl who arranged many of Mr. Spitzer's encounters, who is the most witty interview in the film–and provides interesting tidbits of information. For example, the fee for having an all-day encounter was the girl's hourly rate, plus one zero.
The movie leaves the impression that Mr. Spitzer is guilty of impolite efforts to wage war against scrupulous greedy business men, and for having a libido. Mr. Garcia's prosecution of Mr. Spitzer is questioned by the film, which also implies that Mr. Langone's wrath has punished all New Yorkers by depriving us of Mr. Spitzer's governance, which is certainly a new perspective.
One thing missing in the movie is, arguably, the one thing everyone came to see: Mr. Spitzer giving something of himself. At times, Mr. Spitzer stares into the camera, his deep voice a stuttering command of his flaws. But Mr. Spitzer's tie is as tight as ever, and his eyes are as dry and as challenging as ever.
Mr. Spitzer is last seen, in Mr. Gibney's film, walking down an unspecified street in Manhattan, blending into the crowd.