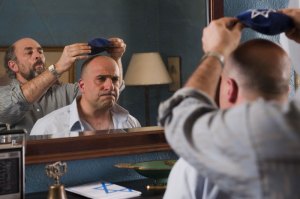 Think the Tribeca Film Festival is only for capital-F Film snobs? Consider The Infidel, a fish-out-of-water comedy from England that's so mainstream in its roots, it feels like the latest from Adam Sandler's Happy Madison Productions.
Which would make Omid Djalili the stand-in for Kevin James. Short, bald and rotund, Mr. Djalili—a famed British comic—stars as Mahmud, an everyman Muslim whose life gets tossed into turmoil when he discovers his birth parents were Jewish and his real name is—seriously—Solly Shimshillewitz. After an attempt to reconnect with his dying father is thwarted because of his fundamental lack of knowledge about the Jewish religion, he turns to an American cab driver named Lenny (Richard Schiff) to teach him about everything from Topol to "oy vey" to the proper way to make a speech at a bar mitzvah. Needless to say, a buddy comedy ensues.
If this all sounds like The Birdcage, that's because The Infidel often plays like its more subversive younger brother. There's even a montage! But what keeps the film from being totally derivative are the performances: Mr. Djalili, in particular, with his mix of physical comedy and James Gandolfini-like outbursts, is a treat to watch. And when he's working together with a slow-burn master like Mr. Schiff, The Infidel is much funnier than it really should be.
Unfortunately, the third act drags on well past its charm—there is an entire Guess Who's Coming to Dinner? subplot about an extremist Muslim cleric that feels like an unnecessary time waster—and despite some scandalous politically incorrect humor, the film too often plays things safe. Just making jokes about the conflict between Israelis and Palestinians doesn't automatically mean they're pushing the envelope. After the screening, director Josh Appignanesi said that he watched the films of Woody Allen and Billy Wilder to get the feel of the comedy. With material like this, Dennis Dugan would have sufficed.