"When do you sleep?" The Observer's Rex Reed asked the 76-year-old Joan Rivers above the din of a standing ovation at the New York premiere of Joan Rivers — A Piece of Work last night. And that's a good question. Because after watching the new documentary based on a year in her busy life, one thing is abundantly clear: She doesn't.
As co-directed by acclaimed documentarians Rikki Stern and Anne Sundberg, A Piece of Work is confident in its quality from minute one: A very up-close-and-personal montage of Ms. Rivers getting her incredibly large amounts of makeup applied (as she joked in the Q&A following the film, after seeing that the prospects of her getting a date again are slight). And while nothing that follows breaks new ground—it's your basic rags-to-riches-to-rags-to-riches story—the film is so tightly constructed that you don't actually care. Besides, even at her advanced age, Ms. Rivers is still completely hysterical, politically incorrect and an a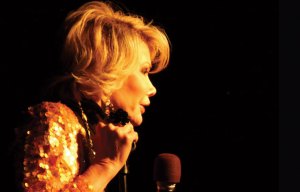 stute observer of human interaction and nature. Simply in that regard, A Piece of Work succeeds. It's the funniest movie thus far in 2010.
What does surprise, however, is Ms. Rivers' complete lack of character vanity. She might be dressed to the nines and covered in pounds of make-up (not to mention all that plastic surgery), but at her core is still an insecure raw nerve, still smarting over the bad reviews she got from New York stage critics thirty years ago. Ms. Rivers is self-deprecating about her late-career malaise—where something like beating the Z-list "stars" on Celebrity Apprentice qualifies as major—but there's a fear and sadness in her voice that belies the tough exterior. At first it seems almost fake—as Ms. Rivers said, she's been playing "Joan Rivers" since the 1960s. But by the time the documentary is over, you realize that even if she is still playing a part, it consumed her long ago. She knows this is her last act, but she simply refuses to go down without a fight.