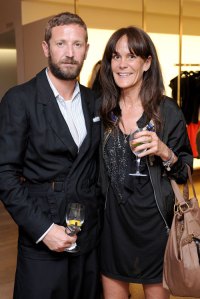 At the opening of Armida at Metropolitan Opera on Monday, April 12, actress Chloe Sevigny told the Daily Transom that she was disappointed at the absence of Stefano Pilati, chief designer of Yves Saint Laurent, the company that has sponsored the event for the last three years. "I came to hang out with Stefano Pilati, but he missed his flight and he didn't make it so I'm kind of disappointed," the actress said. "He wanted me to wear this outfit, so I wore it and I'm here to see him and he's not here!" (The actress wore a black YSL evening jumpsuit and elbow-length gloves.)
Later during the gala dinner, YSL CEO Valérie Hermann gave an entirely different reason for Mr. Pilati's absence, telling the guests:
"Finally, Stefano Pilati, YSL's creative director, has asked me to convey how sorry he is not to be able to join us tonight, and sends his very best wishes from Paris, where he is busy with the coming collection, " she said. "Somebody still has to work in this company."
Now, Daily Front Row is wondering whether the designer's absence might be indicative of a rumored rift between Mr. Pilati, who was named creative director of YSL in 2004 following the exit of Tom Ford, and PPR, YSL's holding company. According to the Daily, there was talk during Paris Fashion Week that PPR might be searching for a replacement since the designer's ready-to-wear pieces haven't won over consumers.
YSL spokespeople responded to the Daily with a denial of any rift, adding that Mr. Pilati will be be present and representing the company at the Met Costume Gala in May.