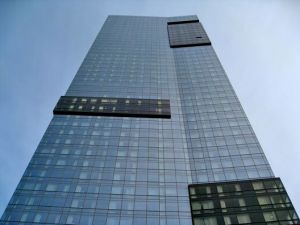 Met with standing ovations and applause from media guests and hotel staff, the official ribbon-cutting for the new Trump Soho hotel-condo tower on Spring Street took place Friday in the never-before used third-floor banquet hall, overlooking the bustling streets of midmorning Soho.
The hotel's managers present the hotel-condo as the first "world class, full-service hotel" for the area, filling what they see to be a gap in luxury services in downtown. The hotel has an outdoor pool and deck, a restaurant open to the public, 12,000 square feet of banquet space and a full-service spa.
Brandishing oversize scissors along with Donald Trump were his children and business partners Ivanka, Don Jr. and Eric, as well as co-developers Alex Sapir and Julius Schwarz of the Bayrock Group, and Deputy Mayor Robert Lieber, who referred to the property as "an exciting new complement to the downtown environment."
Donald Trump, who predicted that the building would become a "great landmark," mentioned briefly the difficulty in the development and zoning for the building, one of the city's tallest non-office towers. The area, zoned for manufacturing, does not allow any permanent residents to reside in the hotel: owners of one of the 391 guest rooms—which start at $1.2 million for a studio-size room—can stay for a maximum of 29 days in a row, and no more than 120 days per year. The rest of the time, the condos will be part of the hotel's rental program, from which owners will receive a percentage of the profit. By the end of the press conference, guests were already checking into rooms.
The rooms, outfitted with Fendi Casa furniture and TASCHEN coffee table books, are decorated in dark wood paneling and cream-colored walls and linens. Views extend in all directions from the tower, which rises well above most of the area's buildings (much to the chagrin of some area residents).
"This is a full-class luxury hotel," said David Chase, the hotel's general manager, "in a neighborhood that, in the past, had boutiques."