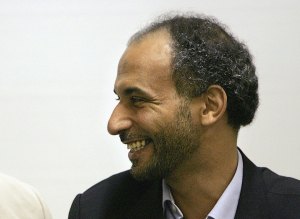 An eager audience filled Cooper Union's Great Hall last night as Jacob Weisberg, Slate Group's chair, moderated "Secularism, Islam & Democracy," a panel featuring Professor Tariq Ramadan, the Swiss-born Muslim scholar who was barred from entering the U.S. in 2004. Also on the panel was The New Yorker's George Packer, the Gallup Center's Dalia Mogahed and Joan Wallach Scott, author of Politics of the Veil.

It was Ramadan's first public appearance since his visa was revoked after he accepted a tenured position at Notre Dame University. The U.S. government defended the decision by saying he had donated to a charity that supports Hamas, the Palestinian militant group.
Ramandan is also controversial because his grandfather, Hassan al-Banna, was the founder of the Muslim Brotherhood, a political group outlawed from taking part in Egyptian politics. Al-Banna was known for his relationship with the Grand Mufti of Jerusalem, a leading collaborator with Nazi Germany during World War II. Ramadan has always tip-toed around his grandfather's anti-Semitism and has never taken a clear stance on the issue.
During the panel, Packer asked Ramadan if he condemns what his grandfather did, and the professor responded that, at the time, all Arabs were against the creation of the state of Israel and said history needs to be contextualized. Packer firmly stated: "I don't like to contextualize a long-term alliance with a leading Nazi propagandist and collaborator." A round of applause from the audience was quickly silenced with Weisberg's index finger.
After the panel was over, both Weisberg and Parker told The Observer that Ramadan's arrival is an important event, but both had reservations about his politics.
"To me his appearance is partly an affirmation of freedom of expression, freedom to speak, freedom to write," Weisberg said. "I think the issue is less his right to speak and more our right to hear from him." He said it's important for Ramadan to be challenged and thought Packer successfully pressed him on difficult issues.
"There are foundations to his ideas that I find worrisome," Packer said, while noting that the Swiss Professor is put in a difficult situation: "He cannot condemn his grandfather," Packer said. "It would be such a loss of his own credibility."
Ramadan needs to begin to "chip away at it, to begin to invite and seriously answer hard questions about the origins of the Brotherhood, its flirtations with Nazism and its anti-Semitism," said Packer.
Since The Observer had the opportunity, we asked the two what they are going to be up to in the near future. Weisberg said some of Slate's upcoming projects include a new commenting platform allowing better audience integration and expanding an existing partnership with the New America foundation. He also plans on expanding Gabfest, Slate's weekly political podcasts
As for Packer … he hopes to have a book out in the next couple of years about, "the Obama administration and Washington. … I can't write them as fast as Tariq Ramadan."