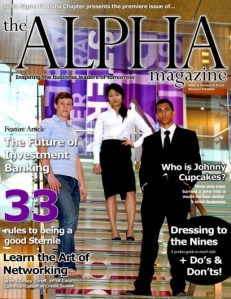 A bunch of students from a business frat ("business frat"?) at NYU's Stern business school have started a business magazine: The Alpha Magazine, it's called. NYU Local spoke with co-editor-in-chief Lucy Liu, who is presumably not actually Lucy Liu.
Good news: Business leaders of tomorrow are excited about print! And they've got some big plans.
The reason we wanted to do a print magazine is partly because we think it's very hard to get readership. For a 60 page magazine you need to get people interested first. We want something people can touch, feel and flip through. Once people realize it's cool and interesting, they're more likely to go to an online version. We're actually putting this online the day after the launch. We're going to be promoting the online version through the print version–it's like our marketing pitch.
Bad news: There still some kinks to be worked out.
The costs are covered by advertisers, and we did a couple of fundraisers to cover the costs like bake sales and a Cold Stone fundraiser. It's funny because we didn't really know what the cost was, so we'd go into local business like "Hey, we're interested in selling ads," and we didn't even have the magazine yet, so we'd quote random prices. It's pretty much all covered by advertising.