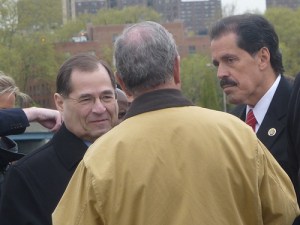 Hillary redecorates.
Watch the Charter Revision Commission at 6 p.m [link fixed].
A reporter swears his editor got a call from Cuomo.
Odato has details on saving OTB.
Bloomberg tops Giuliani.
Bloomberg 2012 speculation, in Albanian.
LGBT legislation moves in Washington.
Waterfronts will get redeveloped.
Randy Altschuler loans himself $860,000.
Nan Hayworth loans her campaign $150,000.
Hoffman gets rebuffed by Republicans.
Paladino gets snubbed by Republicans.
De Blasio hits Paladino.
Bloomberg and de Blasio hang out.
Capehart tells Paladino, "Orientation, Mr. Paladino. Orientation!"
Bloomberg actually did say he wanted to get rid of the public advocate.
Bloomberg raises for Hoyt.
Gioia raises for Espada's chalenger.
The Wonskter meets Tea Party.
And pictured above is Bloomberg talking with Rep. Jerry Nadler and Rep. Jose Serrano in the Bronx.