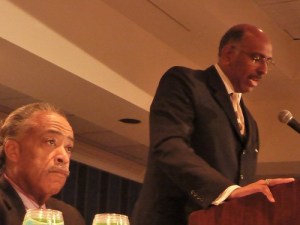 Steele is still neutral, says Carey.
Steele avoided reporters at the Regency.
Gillibrand raised $8.75 million.
Malpass is loaning himself $1 million. DioGuardi loaned himself $107,113.
Schneiderman gets Dutchess.
Levin makes a deal, settles a Satmar fight.
Bishop's challenger, Demos, is raising.
An upstate blog polls on whether to abandon Levy.
Charlie King starts his new job.
An excerpt from Elkind's book.
Pataki invokes Bloomberg in opposing HCR.
Senate Democrats want STAR restored. Assembly Democrats balked.
And pictured above is Sharpton, listening to Steele.