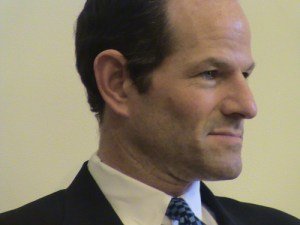 Comptroller John Liu eyes the Wall Street bonus tax.
Liu: Taxing may drive people away, but so will "decimating the police force."
AOL News picks up the Spitzer story.
"Cuomo refuses to say if he'll run for governor even as he holds governor-sized fundraisers."
Criticism of The Times story on Spitzer.
Robbins takes a bow for causing chaos between Levy and Lazio.
Paladino accuses Levy of pay-to-play.
Robin notes Levy dismissed Bloomberg's concerns about fracking.
The LA Times sees history repeating itself with Rangel.
Mulgrew gets 91 percent of the vote.
PEF gets angry.
Espada tweets local news.
Duane wants a space shuttle.
If you see a cop on a cell phone, say something.
The NYS Democratic convention is moving from Manhattan to Westchester.
Levin beats up a developer.
And if Spitzer is talking about a comeback, here's a reminder about what the first go-round looked like for Spitzer in Albany, before he got in real trouble.