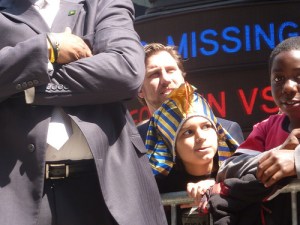 Lazio has 48.84 percent of the weighted vote. Levy has 25.57. An additional 25.55 is undecided.
Levy doesn't pledge to back Lazio.
The cost of lobbying Albany: $168 million.
Philanthropy Today picks up the Cayman Islands story.
Vermont Public Radio ponders Bloomberg 2012: "The Vanity Candidate."
The AP moves a story about Bloomberg and the Cayman Islands, noting "he insisted he had not" signed tax forms indicting where his investments.
NY1 covers Obama's speech.
Mario Cuomo asks Fox to rephrase the question.
WPIX sees confusion in Obama's strategy.
A Wall Street titan got a warm greeting.
Savino and Lanza want Espada to step down.
So does Valesky.
As Roback gloats about Espada, Rochester Turning reminds him of Joe Bruno.
Bklynpol trashes Goldstein for selling out. "Do the borough a favor and move to Manhattan."
Maggie Brooks quietly followed reporters on Twitter using another person's account.
Critics deconstruct PlaNYC.
Lopez backs DiNapoli.
Hardt gets a well-deserved vacation.
Simotas leads for Gianaris' seat.
And pictured above are some onlookers to Bloomberg's press conference in Times Square.