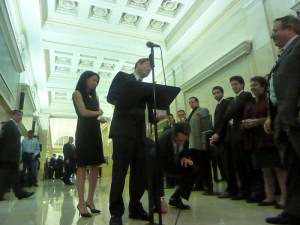 May 5, Albany lawmakers go On the Record.

Cox acknowledges it's possible Levy won't make the ballot.

Obama will raise money at the Regency.

Bloomberg wants you to volunteer.

Bloomberg defends Wall Street.
Schumer talks to Liz about Wall Street, and the Schumwich.
Sefl calls Mike Allen "part mascot and part sleepless narrator" of Washington.

Investigators took payroll records from Espada's office.

Silver says don't blame everyone for Espada.

Sampson is skeptical of Cumo's case.
Lopez gets attention from Rice.

Scozzafava is out.

Cindy Darrison now Tweets.
And pictured above is Cuomo, picking up a reporter's digital recorder before his press conference this morning.