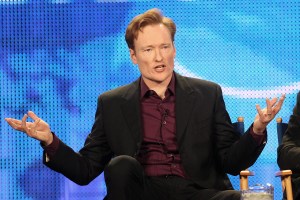 In the end, there will be no masturbating bear for Rupert Murdoch.
Today, Conan O'Brien surprised the people of earth, announcing on Twitter that he was rejoining late-night television not with Mr. Murdoch's Fox network, as long expected, but with the cable comedy outfit TBS.
According to Turner's press release, Mr. O'Brien's new show will debut at 11 p.m. on TBS in November. Lopez Tonight will move back an hour to midnight.
"In three months I've gone from network television to Twitter to performing live in theaters, and now I'm headed to basic cable," said Mr. O'Brien, in the release. "My plan is working perfectly."
Last spring, Mr. O'Brien and his staff decamped from New York to L.A. to take over NBC's Tonight. Will Mr. O'Brien now come home to us?

A TBS spokesperson told The Observer on Monday afternoon that the decision about where to shoot Conan's new show is "TBD."