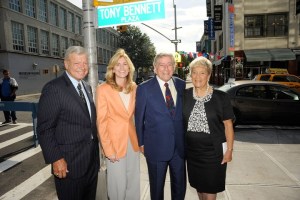 Queens Borough Prez Helen Marshall seeks borough resident with an incredible passion for Queens history, and absolutely no passion for money.
Here's the listing:
POSITION OPENING: QUEENS BOROUGH HISTORIAN
The office of Queens Borough President Helen M. Marshall announces the search to fill the unsalaried position of Queens Borough Historian.
New York State law requires every municipality in the State, including each borough of New York City, to have a government-appointed local historian. The position is described in §57.07 & §57.09 of New York State Arts and Cultural Affairs Law (see http://www.nysm.nysed.gov/services/artslaw.html ). The Queens Borough Historian will join a statewide network of public historians that are recognized for their expertise in their respective municipalities.
The Queens Borough Historian will promote and preserve local history through accurate historical data for internet and print outlets, and through public programs such as lectures, conferences, tours, workshops and media appearances. He/she will respond to history-related inquiries from the public and press. He/she will encourage the collection and preservation of governmental and non-governmental historical materials. He/she will encourage (and may conduct) research related to the history of Queens. In addition, the Borough Historian will offer advice to the Borough President on items of historic significance, and identify important milestones in Borough history.
The Queens Borough Historian serves at the pleasure of the Borough President, and currently receives no monetary compensation from the Borough, City or State. However, the Borough Historian will be provided with basic office resources including email, website, phone, fax and mailing privileges through the Borough President's Office and through the cooperation of Queens Historical Society, the Archives at Queens Library, the La Guardia and Wagner Archives at LaGuardia Community College/CUNY and other entities.
The Borough Historian reports to the Borough President's Director of Culture & Tourism.
QUALIFICATIONS:
Queens resident
Passionate about history
Strong communication skills
Willing to devote time to public activities
Computer, internet, website, email skills
Please email cover letter and resume to: resumes@queensbp.org by May 5, 2010.
Final selection will be announced in mid-June.