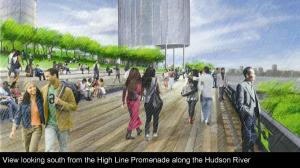 The M.T.A. on Monday made public its new $1 billion deal with Stephen Ross' Related Companies to develop the West Side rail yards, and in it are some details about just when the agency can start to expect taking in rent for selling off the air over its giant 26-acre LIRR yard by the Javits Center.
According to the agreement, which is up for full board approval Wednesday and still needs to be signed by Related, the developer does not need to close on the deal until:
-Midtown office space availability rates hit 11 percent, according to brokerage CB Richard Ellis. While the current rate is at 14.8 percent as of March, 11 percent is relatively achievable, as according to CBRE numbers, midtown averaged well below 11 percent between 2005 and 2007.
-Manhattan co-op and condo sales price achieve an average $1,200 a square foot for a sustained period (it's slightly more nuanced than this). The fourth quarter of 2009 saw an average price of $1,051, according to Miller Samuel. The rate has cracked $1,200 a foot in three separate quarters in the last cycle, hitting a peak $1,322 a foot in the second quarter of 2008.
-The architectural billings index must pass 50 for the commercial sector. It's currently at a bit below 45, and was last over 50 in early 2008.
(The triggers were agreed to a couple months back, we reported at the time, and since, the negotiations have been devoted to smaller points.)
Assuming Related signs its contract with the M.T.A., it will not have to close on the deal and thus be on the hook to start paying rent worth about $1 billion until the three triggers are hit. That kicks the can down the road some on the question of whether or not Related will indeed go ahead with the deal, which seems quite risky right now. (The company has put tens of millions of dollars thus far into the effort, before its 99-year lease starts).
The infrastructure costs are tremendous (up to $1 billion for a platform over each of the two sections of the rail yards), and it's far from a foregone conclusion that big tenants will once again be willing to relocate far from midtown Manhattan. After all, there's now a lot of government-backed new vacant office space set to rise in Lower Manhattan, and Related wants a large office, retail, and hotel tenant committed before it starts on the platform.
Even if the triggers aren't hit, the M.T.A. can also call in the deal whenever it wants, giving Related 90 days to close and start its rent payments. Of course, if Related decided to bail on the project at that point, the M.T.A. would have to start over, opening up bidding for another developer.
ebrown@observer.com