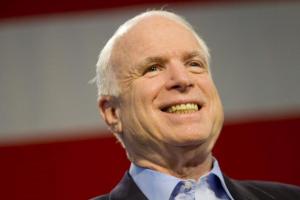 How many Twitter followers does John McCain have?
"One million seven-hundred and forty-one thousand," he rattled off in an interview with Bloomberg News. (That's actually a little high–it's 1,737,879 as of this writing–but still 46 times more than the next member of Congress, at least according to Bloomberg.)
It reminds me of the time I spent with Howard Dean in June of last year. We were on the F train when a supporter who had started a Facebook group to support Mr. Dean's nomination as secretary of Health Human Services said it had more than 6,000 fans.
"You actually had 4,996," Mr. Dean told him.
But it's a little more surprising in Mr. McCain's case, since, you know, he didn't use email as of 2008. "I love it; it's so interactive," he said of Twitter.