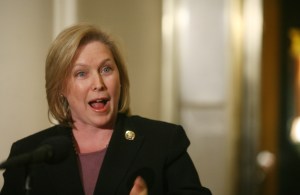 Last summer, Assemblyman Vito Lopez–chairman of the Brooklyn Democratic Party and erstwhile supporter of Caroline Kennedy for the Senate seat vacated by Hillary Clinton–wasn't taking calls from the woman who was appointed, Senator Kirsten Gillibrand.
Two months ago, he was hosting lunches for her then-maybe-challenger Harold Ford Jr., touting Mr. Ford's experience as equal or greater than that of Ms. Gillibrand, and rating the former Tennessee congressman a 98. Personally, Mr. Lopez said, it would be hard for him not to endorse Mr. Ford.
This morning, a month after Mr. Ford dropped out, and with no other Democrats to choose from, Mr. Lopez endorsed Ms. Gillibrand–a sign that no else is likely to contest her for the Democratic nomination.
"Senator Gillibrand has worked hard over the past year to spend time in every part of the state, listen to the people of New York, and respond to their concerns," said Mr. Lopez in a statement emailed by her office. "I am pleased to endorse her. On issues impacting seniors, the creation and preservation of affordable housing, health care, and providing necessary social services to the people of New York, Senator Gillibrand is working to support our efforts at the state level to improve lives for all New Yorkers."
Her portion was was a little warmer, saying she was "honored" to have his support.
"As the leader of the largest Democratic organization in the State and as someone who has dedicated his entire career to providing affordable housing and social services to New Yorkers, I value his insight and respect his tireless commitment to the people he represents. I look forward to working closely together with him to fight for his constituents and New Yorkers across the state."