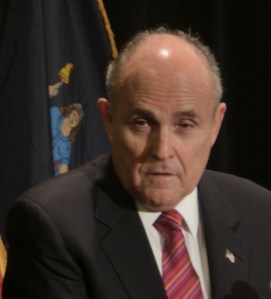 Rudy Giuliani apparently likes Ed Koch's plan to reform Albany.
The former mayor and presidential candidate is now helping to lead New York Uprising, a reform movement created by Mr. Koch and others, according to two people familiar with Mr. Giuliani's involvement. (Mr. Giuliani was at a meeting on the issue with many of the other members yesterday.)
The group, convened by Mr. Koch, Citizens Union executive director Dick Dadey and former Parks commissioner Henry Stern, is planning to push for nonpartisan redistricting and standardized budgeting, according to those people, and Mayor Bloomberg's former campaign manager, Bradley Tusk, is assisting the group. A press conference is slated for Monday.
Redistricting is clearly going to be a hot issue in the coming year, as the legislature elected in November will be able to map out new districts. Some states, such as Iowa, have switched to a nonpartisan process for this, which would theoretically eliminate gerrymandering, although such a move would require consent of those currently in power–never an easy sell.
Of course, if the Democratic Senate feels it may lose power to Republicans in November, it might be more inclined to change the process now.