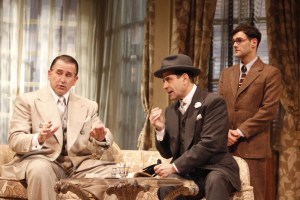 Let's acknowledge from the outset that the script for Lend Me a Tenor, the backstage farce—really, the offstage-and-back-at-the-hotel-room farce—that opened at the Music Box Theatre Sunday night, contains nearly as many implausibilities as an hour in Jack Bauer's life.
Among them: that Tito Merelli, the great Italian tenor at the center of the play, would be making his U.S. debut in Cleveland, of all places; that the local impresario's put-upon factotum, Max, would be a gifted singer who knows every word of the lead part in Otello, which Merelli has come to Ohio to sing; that Merelli would travel not only with his own costume and makeup but also with a spare set of both, which Max will wear once the divo is thought to be dead; and that no one, including Max's fiancée and Merelli's wife, will be able to tell the two apart—even though Max is young and thin, and Merelli is middle-aged and, well, built like an opera star—once they're both outfitted as the Moor of Venice.
But if great farce is made by the collision of overlapping inevitabilities, decent farce can be made by the accumulation of overlapping unlikelihoods. And this Lend Me a Tenor—the first Broadway revival of Ken Ludwig's late-'80s hit, here ably if sometimes languidly directed by the actor Stanley Tucci—is very good farce.
The play is set in an elegant, Art Deco hotel suite in 1934. As it opens, Saunders, the producer; Max, his assistant; and Maggie, Saunders' daughter and Max's almost-fiancée, are desperately waiting for the great Merelli—a man noted as much for his appetites as his voice—to arrive. Soon enough, Merelli appears in the suite, trailed by his jealous but doting wife, Maria, and an opera-mad bellhop. There's also Julia, the chairwoman of the Cleveland Grand Opera Guild, and Diana, the soprano set to sing opposite Merelli—she wants to use him to advance her career and will happily let him use her in exchange.
That's eight characters, with perhaps eight different goals, on a two-room set with five different doors to slam (plus a sixth doorway, without a door, into a side kitchen). When Merelli, after an overdose of phenobarbital and an overlong nap, is thought to be dead, and Saunders sends the heretofore meek and mousy Max onstage in his place, it's a fine setup for hilarity to ensue.
It does, thanks to a big-name and very game cast. Tony Shalhoub, who knows from neurosis after eight seasons on Monk, plays Saunders as a high-strung, petty despot, raging uproariously with a sort of manic darkness and barely contained fury against everything going wrong around him. Anthony LaPaglia is Merelli, a lovable, if randy, Italian-accented galoot who spends most of his time charmingly befuddled.
The stage veteran Jan Maxwell, as Merelli's wife, adds a comic jolt to her scenes, deliciously epic bilingual feuds with her conniving but ultimately childlike husband. And as Max, the Hangover star Justin Bartha at first seems ill at ease onstage, overly stiff, but as the nebbish becomes an unlikely opera star, so does the actor seem to come into his role, his giddy bursts of slapstick almost upstaging his better-known costars.
The script by Mr. Ludwig—who also wrote Crazy for You and Moon Over Buffalo—is carefully and cleverly constructed. But at two and a half hours, including intermission, it's also too long, especially in the latter half of the first act, when the scenes, and the slapstick, seem to drag on.
Mr. Tucci makes his debut as a stage director with this show, and he does excellent work with the comedy, especially the well-choreographed physical bits—it's not every day that you see audience members literally throwing their heads back and guffawing, as they did, frequently, at the performance I attended. But, still, there's that pacing problem: The show would be better if Mr. Tucci kept it moving faster, perhaps by trimming some of the script.
Indeed, the most inspired moment comes at the end—after the action is over but before the curtain call—when the company reenacts the play, from start to finish, in a wordless, stylized, fast-paced and over-the-top 90 seconds or so.
There's only one thing I fear in life, my friend," Alfred Molina, as the Abstract Expressionist painter Mark Rothko, tells Ken, a new assistant who's an aspiring painter. "One day the black will swallow the red."
It's a fine moment near the start of John Logan's powerful new play, Red, which arrived at the Golden Theatre last week after a lauded run at London's Donmar Warehouse at the start of this year. Red is set in Rothko's cavernous Bowery studio—a former gymnasium filled with canvases and pigment and frames, the physical stuff of art-making—at the end of the 1950s, as the artist is at work on a series of murals commissioned for the then-under-construction Four Seasons restaurant. He's explaining the colors and tension of those abstract paintings—red is blood and passion and life; black is nothing—but the line is also filled with portent. Ultimately, realizing rich diners won't be the contemplative audience he demands for his work, he'll give up the commission, return his princely $35,000; 10 years after the play ends, he'll kill himself. The black wins.
But not for the 90 minutes we spend with Rothko and Ken (the fresh-faced British actor Eddie Redmayne, whose American accent doesn't sit quite right). Here, Rothko is neurotic, depressive, self-impressed and self-absorbed. As played with a shaved head and big round glasses by a fantastic and ferocious Mr. Molina, he's a force of nature. He teaches Ken—and us—about art and the demands artists place on themselves.
The play is didactic, but, then, Rothko was a didact, which makes him an ideal conduit for Mr. Logan's arguments. "I am not your rabbi, I am not your father, I am not your shrink, I am not your friend, I am not your teacher—I am your employer," Rothko tells Ken upon hiring him. But he can't help himself: He discourses on philosophy, on literature, on painting. "Most of painting is thinking," he says. Rothko prides himself and his generation on having vanquished the Cubists, but he rails against the rising Pop artists, against change.
Eventually, if unwillingly, Rothko becomes a father figure to Ken, too—and sends him out to find his own place in the art world. "The child must banish the father," Rothko says early in the play. And art, even if Rothko doesn't like it, must move forward.