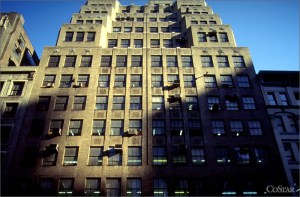 Fearless fashion writer Guy Trebay scuba dives into what he describes as a "coral reef" of fashion this morning, and returns with an interesting profile of one building, 347 West 36th Street, as microcosm of the New York garment industry:
HOW is the garment district like a coral reef? A coral reef, as Animal Planet instructs us, shelters diverse species of sponges, snakes, clownfish and barracudas. So does the garment district. A coral reef is a rich universe with its own organically evolved architecture, home to its own assortment of beasts and weeds. Garment district buildings are the same. Plunge down alongside a reef and hang in the flow, currents eddying around you, and as the designer Yeohlee Teng said recently, "You never know what is going to swim by."
Read the whole article here.
drubinstein@observer.com