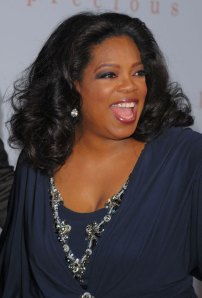 So, Oprah's back—or, rather, it's become clear that she never planned to go anywhere.
There was Oprah onstage in New York last week, unveiling her new lineup of TV shows on her new Oprah Winfrey Network cable channel—at least three of which feature herself! There she is on the cover of The National Enquirer this week, with an evergreen story about lesbian rumors and her love life being in turmoil. And to top it all off, there is Kitty Kelley's Oprah exposé arriving in bookstores this week with a nice thump.
If there is one thing to be gleaned from this Winfrey-rich environment, it is this: A lot of media had it wrong when they predicted she was slowing down when she announced that she was giving up her daytime talk show after 25 years, in the fall of 2011. In her book, Ms. Kelly quotes a former employee observing Ms. Winfrey standing in the control room of the Phil Donahue show toward the end of his daytime run and saying, "If I ever stay that long, kick my ass out of here." (And, to be fair, The Oprah Winfrey Show is ending its network run a season sooner than Donahue did.)
But her exit has so far been remarkably shrewd: First, she's riding the transformation of the media business by moving from a challenged daytime-syndication business model to a full-fledged cable network in partnership with Discovery Communications. And in doing so, she is taking a calibrated, though gigantic, risk.
The wisdom of Oprah's move to cable is far clearer than it was when her new channel was announced more than two years ago—just look at the news that Conan O'Brien is moving to TBS as evidence that while cable may deliver a smaller audience than broadcast TV, it also delivers the much-desired dual source of income—advertising as well as subscriber fees—that every other form of media is now chasing. (Another small and recent example is Martha Stewart moving her daytime show from NBC to the Hallmark Channel.) Indeed, Oprah's move to OWN is more analogous to Howard Stern's move from broadcast to satellite radio—but only if satellite radio was a proven success and he owned half the company.
Ms. Winfrey recently told The Wall Street Journal that she is wary of too much exposure on the channel: "I will be on the network as many times as is necessary—but not too much. I don't want to make it look like every time you turn it on, 'There she is again.'"
That means there will be a reality show chronicling the last year of her syndicated show, and contractually she can't appear on any other interview shows until that show goes of the air. But her main gig on the new network after the fall of 2011 will be a roving interview show called Oprah's Next Chapter, which got a lot of press attention because it will run in prime time. But that was a bit of a curve ball—this is cable, after all, where you can watch The Shawshank Redemption over and over for an entire weekend. I'm told that the plan is to also air Oprah's Next Chapter in the afternoon, possibly in her familiar 4 p.m. slot.
The risk in all this is that the promising lineups of new cable channels rarely work—as Ms. Winfrey discovered years ago when she helped launch the Oxygen channel. But she has tread carefully, including enlisting former MTV guru Tom Freston as a consultant. And tension between the channel's L.A. headquarters and Winfrey's Harpo Productions in Chicago was mitigated with the Jan. 1 arrival in L.A. of Lisa Espamer, as the OWN networks' chief creative officer; she co-ran the Oprah show for the past four years and knows what the boss likes.
If Ms. Kelley's telling is to be believed, Ms. Winfrey has rewritten and mythologized her personal history to such a degree that the irony inherent in her famous on-air scolding of James Frey is enough to make your head explode. There are quite a few more chapters to be written, especially once Ms. Winfrey officially trades the Windy City for Southern California next fall.
rsiklos@observer.com