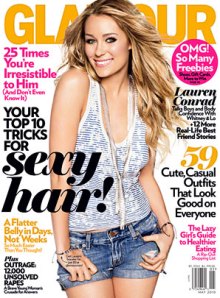 Glamour's "Ask a Stylist" iPhone app forces "live–and real–experts" to put up with you being boring while you try on clothes, reports the Wall Street Journal:
A team of eight stylists trained and certified by Glamour magazine are on call 24 hours a day, seven days a week. Users snap photos of clothes, accessories or themselves, pick a stylist and submit a question under event categories such as "Girls' Night" or "Wedding." A stylist will reply with his or her opinion. Stylists have profiles (and, eventually, user ratings), so consumers can seek out stylists that fit their taste preference.
The app "claims to be the first to link up people in real time."
Of course, if you're the kind of person who can't be trusted to pair "a sparkly gold belt" with "a black dress or dark jeans," then there may be no helping you. But at least your friends will be relieved of duty.