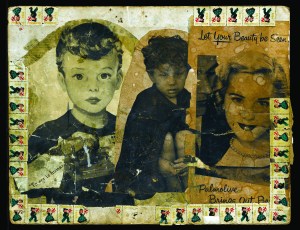 Artist Henry Darger led an Ellison-esque existence, an invisible man until his death in 1973. Posthumously elected mascot for the Outsider Art movement, Darger lived in a one-room apartment in the Lincoln Park neighborhood of Chicago. For much of his life, he worked as a custodian in a Catholic hospital without even enough disposable income to keep a pet.
"Henry Darger had an art collection." That is the first sentence of curator Brooke Davis Anderson's introduction to the evocative exhibit devoted to the artist. She follows up in the second paragraph with the similar, but more challenging, "Henry Darger had an art collection?" The collector in question was an indigent recluse with no artistic training and barely enough money to keep himself afloat, let alone collect art. Yet he did. The collection is on view at the American Folk Art Museum through Sept. 19.
Climbing the steps to the fourth floor of the exquisitely designed midtown institution, the museum-goer sees Darger's collages lining the museum walls like suits of armor. They stand at attention, leading with ceremony to a photograph that gives insight into his special existence. It's a wall-size, black-and-white photograph of Darger's apartment, taken by Nathan Lerner, the Chicago landlord who discovered his trove of art around the time of Darger's death. The photo reveals the septuagenarian janitor's private existence-a collaged and cluttered studio that was his place of work, residence and art collection seamlessly woven into one. In his home, more than 100 self-made works in the cramped room were displayed in any way possible: tacked to walls, dangling from strings, taped directly onto surfaces. Unlike the exhibits that have showcased Darger's large-scale, scroll-like watercolors, the Folk Art Museum's focuses on these collages and compositions he created and lived with every day, the images with which he chose to surround himself. Culled from the more than 40 collages in the museum's collection, this secret facet of Darger's oeuvre is shown for the first time.
They mix together newspaper clippings of soon-to-be-adopted Korean babies; religious icons; un-Crayoned pages from discarded coloring books of idyllic childhoods and contented Labradors; and magazine portraits of June Cleaver-type women imagined as his mother. Darger had on his wall everything he could not have in his life, unknowingly predating Rauschenberg's combines and Warhol's altered repetitions and reappropriations of already existent media.
The works on view show the signs of age, but considering the quality of materials-Christmas seal stamps, cast-away cardboard, medical tape, art supplies from the five-and-dime store-it's a miracle they survived at all. Their wear only adds to their decrepit majesty. These images were his companions, the magazine portraits he framed in Christmas seal stamps the family photographs he never had.
Darger, born in Chicago in 1892, was orphaned at an early age and sent to a Catholic home for boys until age 13, when he was transferred to an asylum for the feeble-minded with the diagnosis, "Little Henry's heart is not in the right place." According to his biographer, John M. MacGregor, the diagnosis was actually "self-abuse," which was, at the time, a euphemism for masturbation. The asylum's practices included forced labor and punishment. It is evident that the mythological themes of persecuted children escaping slavery in his epic 15,145-page, single-spaced fantasy manuscript, called The Story of the Vivian Girls, in What Is known as the Realms of the Unreal, of the Glandeco-Angelinnian War Storm, Caused by the Child Slave Rebellion, reflect Darger's own traumatic childhood. He himself always wished to adopt, but his application was consistently rejected.
His collages have an eerie power of assertion on the viewer even today. Looking at Lerner's overwhelming photo, the exhibit visitor is struck by dozens of faces of strangers that somehow, in Darger's curation and collection, become eerily familiar. A fellow museum-goer sat on a bench facing the wall-size photo. "That girl looks like Eva," he muttered slowly. Lifting his head, he turned to his companion several yards away, who was focused on a wax-paper-covered collage of the Virgin Mary. "Joy, look away then look back quickly at the girl near the desk. It's Eva, isn't it?"
It was. She was Eva. She was everyone, and Darger unleashed the power of the nameless image to morph into whomever the lonely viewer required him or her to be.