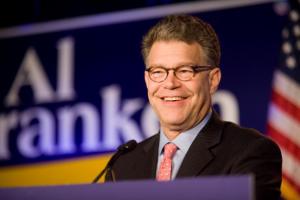 Al Franken is loosening up.
Last month, Observer alum Jason Horowitz wrote about how Senator Al Franken was finally being a little bit funny, after spending the better part of a year not wanting to be thought of as the guy from Saturday Night Live.
Now, he's even embracing the old gang. Dan Akroyd is hosting a fundraiser in Los Angeles for Mr. Franken this weekend. And they'll be joined by fellow alums Dana Carvey and Kevin Nealon. Supporters can pay $2,400 to be a "cast member."
Hopefully it's more like these days than like these.