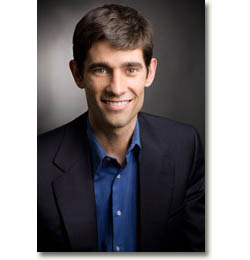 Nicholas Thompson is going to be a senior editor at The New Yorker. He starts on May 3.
Mr. Thompson, who has been a senior editor at Wired, is the third* editor to be hired by the New Yorker in the last eight months. In October, Nick Trautwein was hired from Penguin Press to become a senior editor, and in August, Amelia Lester left the Paris Review to become managing editor. When the magazine was hiring for the position that Mr. Trautwein eventually filled, Mr. Thompson was on a short list of candidates for that job.
Mr. Thompson, 34, is the author of The Hawk and the Dove: Paul Nitze, George Kennan, and the History of the Cold War and is a fellow at the New American Foundation. Before he worked at Wired, he was an editor at Legal Affairs and The Washington Monthly. He also has a thing for playing the guitar!
Update: David Remnick just called to talk about Mr. Thompson. "We had talked to him before and he's very impressive," he said.
He said Mr. Thompson was brilliant and "he also has a really deep knowledge of technology, both as a subject and a practical matter. I think that's a real plus for us. Both in conceiving in how we cover it and how we appear in other platforms; how we're going to look or approach the New Yorker on the iPad or other such devises. Or the web as well."
And Mr. Remnick also said: "We only hire people Nick now. Trautwein and Nick Thompson," he said.
*Update II: Willing Davidson was also hired as an associate fiction editor a few months ago as well. We'll have to update this masthead at some point!