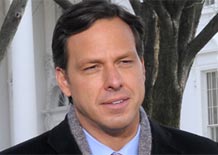 The great Sunday Morning Fact-Checking Experiment began this week on This Week.
And this we now know: Jon Kyl tells the truth about filibustering.
Defense Secretary Robert Gates, on the other hand, he peddles half-truths about the Bush administration's nuclear policy. (Or, he just refers to their stated position towards the end of the administration instead of explaining the nuances of their evolving policy.)
Politifact promises more truth-telling as the week progresses, so, for now, you'll have to wait to see what kind of tall tales Chuck Schumer tried to get away with.