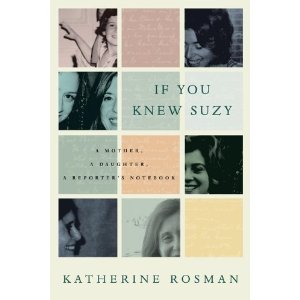 On Wednesday, April 21, at a reading by Wall Street Journal reporter Katherine Rosman, the Daily Transom witnessed an unorthodox exchange:
"What are you wearing?" one audience member asked the writer.
The question, a strange one to hear at a book reading, was inevitable because of Ms. Rosman's beautiful bright red dress.
"Prada," Ms. Rosman said. "It was my mom's," she said.  A pause. "It's from the dead mother collection."
Laughter in the room.
Ms. Rosman's first book, a memoir called If You Knew Suzy, is about  her mother's life and death from lung cancer five years ago at age 60. Writing it, Ms. Rosman mined address books, business cards, old e-mails, and phone books to tackle the subject of "Mom," using the same method she has used to illuminate topics like elite book clubs, orgasm instructors and the death of "the slush pile" as a journalist. If You Knew Suzy is touching and sad, demonstrating a life well-lived and cut way too short.
"The Mom I conjured was not the vibrant ass-kicker, the energetic woman who on any given day might climb to a mountaintop before 7:00 am," Ms. Rosman writes of the time just before she began working on If You Knew Suzy. "When I closed my eyes, I was seeing the cancer victim."
Notepad in hand, she began calling the numbers in her mother's address book.
"I wanted to know the things that weren't the family clichés," Ms. Rosman said at the reading. "We often think we know a story before we start reporting it. What I thought were my mom's stories, none of those are in this book."
She balances two narratives at once: one of the sick patient, whom Ms. Rosman is trying to forget, the other of an energetic beauty from the suburbs of Detroit whose story Ms. Rosman discovers as she writes: a woman who watched Law & Order reruns while perusing eBay; a Pilates instructor and lover of hip-hop; someone who called pushy lawyers "fucking ambulance chasers." The discovery of all this life in the midst of mourning creates an investigative how-to manual in overcoming loss.
"I would go to the bookstore and see all these books about self-help," Ms. Rosman said. "I didn't want self-help. I tried to write the book that I wanted to read."
Her first lead comes from a call to Jennifer, one of her mother's Pilates students, and at the time a stranger to Ms. Rosman. Jennifer shared her favorite Suzy story: During one of their lessons, Jennifer admitted she was worried that her husband's moodiness would embarrass her at an upcoming work party. Suzy's advice?
"Twenty minutes before you have to walk out the door, have sex with him. It'll buy you two or three hours of him being relaxed and in a good mood."
"My mom said this? My mom?" Ms. Rosman writes.
When she read this passage aloud, she made a yuck face, laughed, and then apologized to her stepsister, sitting in the audience.
Even the seeminly insignificant people in Suzy's life—especially them—had a story to tell. Later in the book, while investigating printouts of her mother's e-mail and eBay accounts, Ms. Rosman discovers Suzy had spent $25,000 on vintage glass while she was sick. She would get suggestions from Carl Bellavia, a "glass-world guru" from Jersey City, and seemingly random, miniscule component of her life. But.
Throughout her illness, Suzy refused to talk about dying with her daughters. After a series of interviews Ms. Rosman realized Suzy could, however, talk about dying with Carl.
"When you're willing to spend the time to peel back the layers, even seemingly conventional players are revealed to be complex," Ms. Rosman writes.
More than a writer dealing with grief through her craft, If You Knew Suzy says quite a bit about everything good journalism can accomplish. Through reporting her mother's life—a life that she thought she knew backwards and forwards—Ms. Rosman discovered an altogether different story, filled with unexpected and fascinating characters. It was her most difficult assignment as a journalist, but she got the scoop.