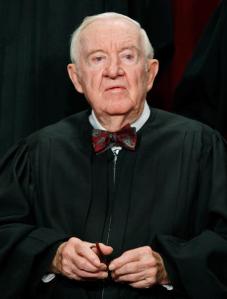 After all but declaring it last week, Justice John Paul Stevens officially announced his retirement this morning.
Mr. Stevens has long been the court's oldest member, and the AP went for some old-school syntax in its lead: "Supreme Court Justice John Paul Stevens, the court's oldest member and leader of its liberal bloc, he is retiring."
This means a bitter confirmation battle just before the midterm elections. And for what? A new justice who, in the best case for Democrats, would be a wash ideologically, and without his considerable seniority.
With Ruth Bader Ginsburg–who's battling health problems–as the next most likely to leave, President Obama's legal legacy could end up being a series of contentious confirmation hearings, a few fresh faces, and basically the same court he inherited.