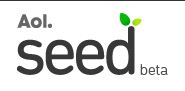 The Business Insider posted a survey that AOL's "Seed" content farm recently sent out. And while TBI focuses on the prospect of outsourced copy-editing and fact-checking, we find ourselves more interested in the implied psychological portrait of a Seed contributor. For example:
Why have you not submitted an article or photo gallery to Seed (select all that apply)?

– Site hard to use

– Don't feel qualified

– Concerned about being rejected

– Assignments are too simple or below my level of experience and ability

– Pay too low

– Too much work

– Not interested in the topics available

– Other (please specify)
Indeed, fear of rejection is daunting! We have experienced it on numerous occasions, although none Seed-related. But might a sufficiently compelling motivation overcome such anxiety?
What kind of recognition/incentive would interest you most? (select one)

– Contests

– Rating system

– Success stories

– Creator of the week or month

– Individual profile page listing professional info and published Seed works

– Other (please specify)

– Recognitions/incentives aren't as important to me
We wish we could say that recognitions/incentives aren't "as important" to us, but we do like a good rating system.