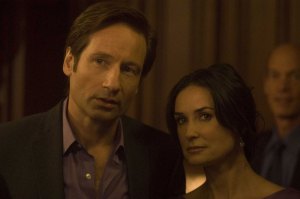 The red carpet of greed, materialism and self-promotion has never been tread with so much fiber-punishing wear and tear as by the camera-ready Jones family, in a fresh, scintillating and downright terrific new movie called—what else?—The Joneses. Like one of those obnoxious infomercials designed to max out your credit card faster than you can switch channels, this vicious but clever and highly entertaining indictment of American consumerism masquerading as the American dream will convince you the right people can sell you anything that ticks, flashes, rings, pops, purrs, hums or sparkles—anything except happiness.
When you first see the all-American Joneses, they are pulling into the lush, lime-colored lawn of their perfect new house—which looks like a centerfold in Architectural Digest—their eyes glistening with possibilities. Mom and Dad, named Kate and Steve (Demi Moore and David Duchovny); their curvaceous, drop-dead daughter, Jenn (Amber Heard); and their hunky son, Mick (Ben Hollingsworth), are ready to do some damage. After a perfect dinner that looks prepared by the winner on Top Chef, they all don their tailored designer pajamas, say good night like the Waltons and head for their separate bedrooms. Before you can say "Lights out," the perfect daughter strips naked in the dark and slips into bed with her perfect dad, ready for some perfect hot-and-heavy incest. Mom furiously switches on the light, declares they're not having any of that nonsense this time around and sets things right. Yes, the Joneses are too beautiful and perfect to be true, and it doesn't take long to find out what their groove is, or what they're up to. When you find out, get ready to pick your jaw up off the floor.
THE JONSES, SEE, are not a family at all. In fact, they don't even know each other. They're a team hired by a newfangled covert-marketing firm called Life Image, whose clients hire the company to push the coolest, newest products and sell lifestyles. The Joneses are a unit posing as the cast of The Donna Reed Show to create high-end demands for everything from golf clubs to frozen sushi. Every member of the unit has to carry their share of the load. Their goal: to seduce everyone they meet into becoming titans of "gimme, gimme" and create a ripple effect to convert naïve dupes into selling their products for them. Kate throws lavish parties to turn the neighborhood wives onto Sam's Clubs. Steve, a former car salesman who thinks he can con anybody, hits the golf course to sell sporting goods. Jenn becomes a classroom cosmetics queen; Mick's new buddies buy out the latest in digital wide-screen TV's. Lauren Hutton is the tough executive who arrives every 30 days to evaluate their progress with computer graphs and edgy pep talks: "You've been here two months and everybody's drinking your Kool-Aid."
Things go south when one envious neighbor (beautifully played by Gary Cole) tries to keep up with the Joneses, goes bankrupt and commits suicide. And the game plan weakens when the family begins to show a human side. Steve tries to be a team player, but his heart gets in the way. Every time he moves closer to the conjugal bed, Kate puts him in his place as the gang leader, with lines like "This is business. I'm your boss. I don't need to be friends." Like moving prisoners from one lockup to another, the company tries to change the cell, but it's too late. To sell lifestyles, you have to sell yourself, and the Joneses don't know who the hell they are. Jenn is involved with a married man; Mick creates a scandal at school when he turns out to be gay; and Mr. Jones has already fallen for Mrs. Jones. The biggest mistake is when the fake family begins to act like a real family. Only a cad would tell you how it ends, but believe me—a meltdown is inevitable.
The Joneses is a cross between alternate-universe dynamics and a reality TV show, with relevant things to say—about the vulgarity of possessions filling the hole where self-value should be, especially in a recession—and compelling performances to say them with. Surprising, inventive and crisply, merrily written and directed by Derrick Borte, The Joneses is a brisk, captivating entertainment. Think Ozzie and Harriet on speed.
rreed@observer.com
Running time: 96 minutes
Written and directed by: Derrick Borte
Starring: Demi Moore, David Duchovny, Amber Heard, Ben Hollingsworth, Lauren Hutton, Gary Cole
3 Eyeballs out of 4