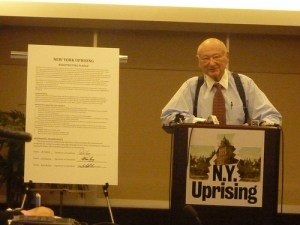 Ed Koch announced the formation of a PAC that will ask all candidates running for office this year–statewide and local–to support non-partisan redistricting of legislative districts.
Signing agreements to support the effort were Andrew Cuomo, Rick Lazio, Steve Levy and Carl Paladino. Additional letters will be sent to legislative leaders like Sheldon Silver, Dean Skelos John Sampson and others who would have to sign off on the deal.
Because Cuomo isn't a formally announced gubernatorial candidate, he signed his own letter agreeing to the concept of non-partisan redistricting, but didn't sign the more detailed letter that Koch sent. The other candidates did.
Koch, speaking at his law office near Times Square, told reporters that the PAC will raise about $250,000 and that he personally put in $10,000.
Lending their name to the cause are "trustees" Mario Cuomo, Rudy Giuliani and others. Michael Bloomberg's 2009 campaign manager, Bradley Tusk, was on hand and "officially volunteering."
I asked Koch if spoke with Bloomberg about this issue. He said he did, but Bloomberg declined to help. Koch said it was understandable, since Bloomberg has to work with the officials in Albany and the city's budget is heavily dependent upon Albany's budgeting decisions.