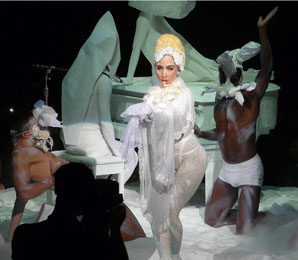 ArtForum has a stressful Scene & Herd piece today about the opening of a new club in Tokyo that featured a performance by Lady Gaga and Terence Koh.
Only 900 people were there to witness it, and each one was there by invitation only, "each as preciously selected as a six-thousand-yen mango at the Takashimaya gourmet grocery."
Lady Gaga and Mr. Koh have collaborated twice before, both times on custom-designed pianos. As ArtForum puts it: "In Koh, Gaga seems to have found her flamboyant and press-hungry art-world counterpart." Or as Lady Gaga herself put it to ArtForum: "When I'm around Terence I just want to poop out art ideas nonstop." OK, great!
What happened in Tokyo at this club opening sounds like the result of a lot of "art ideas" jumbled together. First, "four chiseled studs in tighty-whiteys and bunny masks led Gaga and Koh-veiled and silent-into the club," then when the show started Lady Gaga performed her song "Speechless" while Mr. Koh wailed along atonally. ("I sound like a horse and Gaga sounds like a magical angel," he would explain to the ArtForum reporter. "So that makes it art.")
Later:
Gaga concluded with "Bad Romance," and the music simmered to a pulsating bass drone. The dancers slavishly delivered long fluorescent tube lamps to Gaga and Koh, then crawled away. Koh resumed his pseudo-Gregorian crooning, while shuffling toward Gaga like a blind man. He filed behind her, pressing as if asexually consummating their union. The lamps formed into a cross and artificial snow and cherry blossoms fluttered down from above.
One thing is for sure: this wacky performance should put to rest any controversy over Lady Gaga's art world credibility–which was called into question recently when David Byrne revealed on his blog that Klaus Biesenbach, the spiky-haired bull of a man who now runs P.S.1, does not consider the "Poker Face" singer an artist.
Mr. Byrne's scoop, brought to our attention by Hrag Vartanian at Hyperallergic, came from a dinner party where Mr. Biesenbach told the former Talking Heads singer that he'd "crossed paths with Lady Gaga" and heard her assert that she was a performance artist. According to Mr. Byrne's account, Mr. Biesenbach informed Lady Gaga that she was not an artist of any sort, which left her "a bit taken aback and stunned."
Mr. Byrne had to retract the post a few days after Hyperallergic linked to it. Apparently to Mr. Biesenbach–who could be seen over the weekend hanging out on the steps of P.S.1 enjoying a late afternoon set by New Jersey band Real Estate–was not pleased to see the quote in Mr. Byrne's blog, and emailed him to correct the record. In the e-mail, according to Mr. Byrne's follow-up post, Mr. Biesenbach said, "Of course Lady Gaga is an artist" and added that he "hopes to work with her someday."
It is hard to tell, based on the ArtForum item at least, how exactly Mr. Koh feels about his partnership with Lady Gaga. "The art world is a bubble that, like the fashion bubble and the music bubble, is just not ready to fuse into a new bubble," he is quoted as saying. "Art is a diamond. The rest is just soft, silk pillows for art to tear apart."