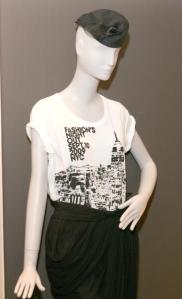 The status of Fashion's Night Out as the grandest event of our time will be made manifest with the grandest fashion show of our time. Reports WWD:
This year's edition of the global shopping event, scheduled for Sept. 10, will be preceded by a public fashion show at Lincoln Center on Sept. 7. The open-air show is being billed as the largest of its kind ever to be held in New York, and it will take place right in the heart of Lincoln Center at Josie Robertson Plaza. The show will feature trends from the fall collection modeled by 200 models in front of an audience of 1,500 – taking up the entire area between the Metropolitan Opera House, Avery Fisher Hall and David H. Koch Theater.
Anna Wintour explained, "We felt it is important for people to see what wonderful fashion will be in stores at that moment."
For not only does Fashion's Night Out seek to benefit the underdog purveyors of luxury goods, it also strives to enlighten you, the consumer.