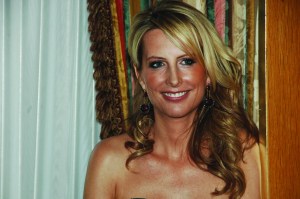 Old media overtook the Four Seasons restaurant on Wednesday, April 6, celebrating the release of Vanity Fair contributing editor Vicky Ward's book The Devil's Casino: Friendship, Betrayal, and the High Stakes Games Played Inside Lehman Brothers, wherein the Cambridge-bred beauty, who recently split from her husband, Matthew Doull, chronicles the demise of the ill-fated investment bank by detailing the most intimate facets of its leaders' lives.
"There's an abundance of Fracas at this party," noted Grey Gardens producer Rachael Horovitz, referring to the heady tuberose perfume-not to be confused with an abundance of Farkas, two of whom, Jonathan and wife Somers, lingered nearby.
Ms. Ward's dress, by Marchesa, best described as a peaked brocade meringue, made it difficult for well-wishing guests to get close. "This man is in the book!" Ms. Ward exclaimed, standing with Lehman vet Robert Shapiro. "I see a lot of the Lehman guys are here. I'm so touched they came!"
"Well, you know us Lehman guys, we run in packs," Mr. Shapiro said softly, before asking: "So what was it like being with Imus?"
"You know, he wrote me the loveliest note after I went on the show; it said, 'Dear Vicky, your book is amazing and you are gorgeous, what a winning combination!' And it was on beautiful stationery, with beautiful handwriting," Ms. Ward trilled.
Bald billionaire Ronald Perelman, wearing a cashmere sweater vest under his pinstriped blazer, chatted with society grande dame Louise Grunwald. In a ruched amethyst sheath, his ex-wife Patricia Duff steered clear, posing instead with pundit Monica Crowley while Patrick McMullan squatted snapping their photograph, suggesting the two blond women start a TV show together. "We've actually talked about it!" they giggled in unison.
Details editor Dan Peres arrived with his wife, actress Sarah Wynter, and completed a quick tour before heading back down the stairs. Vanity Fair editor Graydon Carter was also there, with wife Anna.
"I started the book on my flight over from Washington and I can't wait to finish it on my flight to L.A.," said jet-set bloggeress Arianna Huffington.
"Wait, who's on the back of the book?" financier Steve Rattner asked fellow moneybags Jeffrey Leeds, before flipping his copy over and finding out: superstar New Yorker writer Ken Auletta, whose Greed and Glory on Wall Street was the unofficial prequel to Ms. Ward's tell-all!
"I wrote a blurb for the back of the book, so I must like it, right?" Mr. Auletta said. "No, seriously, I really loved the book; she's done an amazing job creating characters you empathize with."