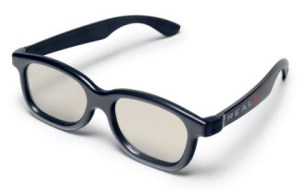 When Buddy Holly and the Crickets performed at the Arthur Murray Dance Party in December 1957, Holly wore a tuxedo, a bowtie, and massive horn-rimmed glasses. He was, in short, a star disguised as a nerd.
In modern-day Williamsburg—or Bushwick, or Fort Greene—current nerds and future stars are indistinguishable. Every other kid just off the bus from Oberlin is rocking Holly's signature look.
Meanwhile, with the success of 3D extravaganzas like Avatar, Alice in Wonderland and Clash of the Titans, the actual dorks back home in Columbus are sporting the look, too.
Clearly, this can't go on.
On a recent visit to Fabulous Fanny's, the vintage eyewear mecca on East 9th Street, the store was filled with customers sporting statement frames. If there was any threat to the trend at all, it wasn't evident.
"My partner thinks they will scale down to smaller lenses, but we sell to so many different people that have their own styles—I really don't think anything is going out of style," said Fanny's co-owner Stanton Blackmer, who was sporting some large tortoise shells himself. "It's not going to affect us one way or another," he added. "We have everything. We deal with people who want to create their own style."
They've done well during a time when one's "own" style is often a riff on the classic Ray-Ban Wayfarer.
"The Wayfarer has been around for a long time," said Eugene Tong, fashion market editor at Details, who rocks some big, honkin' frames himself. "When the next thing happens and those trend-humpers move on to that, you'll still get people who wear them. It's like a pair of 501 jeans. It's never going to go out of style."
Anyway, for Mr. Tong, the real threat is obvious.
"The hipsters will kill the trend more than theaters offering 3D glasses in a wayfarer shape," he said.
Pop will eat itself. Q.E.D.
A question remains: Why do the new crop of 3D glasses look that way in the first place?
Blame Chicken Little—the "first film shown using RealD 3D projection," said Joshua Greer, the President and Co-Founder of RealD, the company behind the 3D glasses we wore, grudgingly, at Avatar. "The glasses were designed to look like [those] worn by the film's main character. It was a fun and interesting design that was a great tie-in with the film. But we knew that we needed a standard designed pair of 3D glasses that could be used for all films." What's more, the Wayfarer style was, in part, chosen because it could fit over prescription glasses.
Alas, the folks at RealD have failed to anticipate the current craze for oversized frames.
"I saw Avatar, but not in 3D," said Williamsburg-resident (and Oberlin grad) David Levin, 25, who's the tour manager for Brooklyn noise-rockers A Place to Bury Strangers. He wears glasses the size of laboratory goggles. "With glasses my size, the 3D glasses wouldn't fit over my frames. I felt discriminated against!"
Luckily, 3D movies are totally lame.
mmiller@observer.com