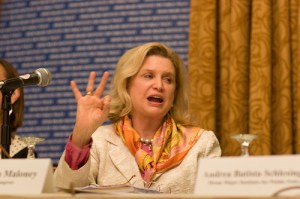 Rep. Carolyn Maloney announced she was endorsed by the AFL-CIO, a union that has 52,000 members in the 14th Congressional District, which covers the East Side of Manhattan and parts of Queens.
The union praised Maloney's support of the health care reform bill, and for her efforts to get health care access for 9/11 workers.

The challenger looking to oust Maloney in the Democratic primary, Reshma Saujani, announced today she raised $401,830, with money from Orin Kramer and Randi Zuckerber (brother of Mark, who founded FaceBook).