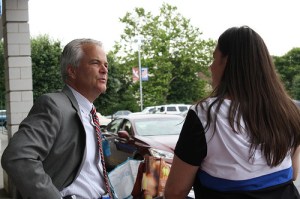 Democratic Rep. Mike McMahon's campaign bashed his leading Republican opponent for not filing his campaign finance information with the FEC by yesterday's deadline.
"Maybe his missing of deadlines is a sign of his political inexperience, but a guy who says he is a numbers guy and a former FBI agent, should know better than to mess with the Federal authorities at the FEC," said a spokeswoman for McMahon's campaign. "After all, if you want to make the laws, you have to learn to obey them first."
Ouch.
The target of their criticism is Republican challenger Mike Grimm. The other Republican challenger in the race, Mike Allegretti "dutifully" filed on time, said McMahon's spokesperson.
Grimm did't file his report yesterday because of a computer glitch, according to a campaign source. The problem is begin fixed.
The source told me Grimm raised $185,000 in this filing period, bringing his cash on hand total to about $449,000.
Allegretti raised about $415,000, spent $171,000 and has $243,000 on hand, according to his FEC filing.
McMahon raised $1,200,000; spent $392,000 and has $1,017,000 on hand.