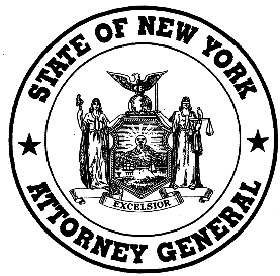 As far as statewide office goes, attorney general is a coveted position, allowing for lots of do-gooding without too much political risk.
So it shouldn't be a surprise that there are already six candidates in the race, including two incumbents who are giving up a safe reelection to the Legislature; one former congresswoman coming out of retirement; and a former top aide to Eliot Spitzer who is jumping into the fray for the first time.
Most of the candidates aren't household names. Here's a cheat sheet:
Candidate: Eric Schneiderman
Current Position: State senator,
Upper West Side/Bronx
Biggest Asset: Harvard Law, 1199 SEIU
Biggest Weakness: Albany, Albany, Albany
Platform: Social justice
Mr. Schneiderman has a lot of things going for him. The backing of the country's largest local union, 1199 SEIU; the help of consulting firm BerlinRosen; and the fact that he is, so far, the only announced candidate in the race from New York City—where there are a lot of Democratic primary voters.
What could trip him up is that Mr. Schneiderman tends to talk more about social justice issues than typical attorney general topics, like Medicaid fraud, which could put him at odds with 1199 SEIU. He's also spent little more than a decade in Albany, where legislative competency goes to die, and at least one of his key supporters, Representative Charlie Rangel, has recently been tainted by ethics problems.
Candidate: Kathleen Rice
Current Position: Nassau County district attorney
Biggest Asset: Suburban base
Biggest Weakness: A reputation for over-prosecuting
Platform: Crime
Speculation among the political chattering class is that Ms. Rice is favored by soon-to-be gubernatorial candidate Andrew Cuomo, because she would add geographical and gender balance to a statewide Democratic ticket.
Ms. Rice has aggressively prosecuted drunken drivers and has worked hard to keep crime rates in her county low, but opponents say she has been too aggressive. Like the time she prosecuted a pop star's manager, who was arrested after he refused to tweet that the appearance of his client at a mall had been canceled.
Ms. Rice, though, has stressed her work developing a "second-chance" program for nonviolent offenders involved in gang activity.
Candidate: Liz Holtzman
Current Position: Lawyer
Biggest Asset: Her history-making political résumé
Biggest Weakness: The vintage of her
history-making political résumé
Platform: "I'm back"
She was a two-term district attorney in Brooklyn, became the city's first female city comptroller and was a member of Congress from 1973 to 1981.
After leaving office, Ms. Holtzman went into the private sector as a lawyer, but has kept in touch with the political scene. She pops up at Crain's breakfasts and business get-togethers, and is busy these days lobbying reporters for Representative Carolyn Maloney, a 14-term Democratic incumbent who is facing a primary challenge.
Although she hasn't officially announced her candidacy, Ms. Holtzman recently commissioned a poll by Doug Schoen showing she had a wide lead over the field of known candidates.
Candidate: Eric Dinallo
Current Position: Lawyer
Biggest Asset: Legal résumé
Biggest Weakness: Head of the New York State
Insurance Department when that whole
AIG thing happened
Platform: Corporate mischief
Mr. Dinallo worked in the attorney general's office under Eliot Spitzer, and before that in the Manhattan district attorney's office under Robert Morgenthau. Mr. Dinallo aides note he's the one who dusted off the Martin Act after nearly a century of neglect, handing Mr. Spitzer (and later Attorney General Andrew Cuomo) a powerful prosecutorial tool to wield against Wall Street titans.
Mr. Dinallo then became head of the State Department of Insurance. During his tenure, the infamous insurance company AIG collapsed and became synonymous with corporate irresponsibility. Although Mr. Dinallo says nobody, anywhere, was charged with overseeing the company's riskier investments, just the mention of AIG could drive voters away.
As a first-time candidate, Mr. Dinallo seems unpolished and a bit uncomfortable, but that's probably O.K. in this anti-incumbent election; he's also quietly racked up endorsements from 20 upstate Democratic county chairman, the most of anyone heading into the Democratic Rural Conference's convention and straw poll later this month.
Candidate: Richard Brodsky
Current Position: State assemblyman, Westchester
Biggest Asset: Record of fighting for government reform
Biggest Weakness: Albany, Albany, Albany
Platform: Beating up on public authorities
Mr. Brodsky is possibly the smartest person running for the attorney general's office. But he's also the most abrasive.
Elected to the Assembly in 1982, Mr. Brodsky has made a career out of battling public authorities and exposing what he considers government malfeasance. For example, he was a strong opponent of the Yankee Stadium deal, and his agitation led to some embarrassing revelations about how much taxpayers were really paying for the project. He is aggressive and outspoken and has opposed numerous city-centered initiatives, like congestion pricing and a commuter tax.
Mr. Brodsky ran for attorney general four years ago, but withdrew while trailing in the polls, citing his daughter's illness and her need for an organ donation (from him) as the reason. He even provided a doctor to speak to reporters.
Candidate: Sean Coffey
Current Position: Lawyer
Biggest Asset: His own checkbook
Biggest Weakness: Politically inexperienced
Platform: Nonpolitician, former Navy man
Mr. Coffey's résumé is unlike that of most of his opponents. It includes words like heroin, the Pentagon and George H. W. Bush.
At 17, Mr. Coffey entered the Navy and later became the personal military assistant to Mr. Bush, who was then the vice president. While working in the Pentagon, he attended law school at Georgetown. He eventually went to the office of the U.S. attorney for the Southern District of New York and helped prosecute a major heroin ring and a sophisticated group of car thieves.
Mr. Coffey made a splash on the campaign trail last week when he announced in an interview with The New York Times that he was putting $2 million of his own money into the race. In a letter to supporters, Mr. Coffey said he wanted to "co-invest with you"—in other words, he wants your money, too. Prior to that, he raised a respectable $1.5 million.
He's also hired competent campaign hands, including spokeswoman Tammy Sun and veteran ad man Jimmy Siegel. It's worth noting that even with his money behind him, Mr. Coffey should probably court voters upstate, because even mentioning a Bush is problematic in the city.