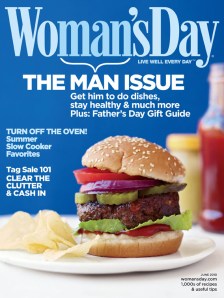 Woman's Day has something contrarian planned for June: A Men's Issue!
Instead of the usual mix of stories about staying fit and coooking up potato salads, the magazine will be full of articles for women, "the CEOs of their households," about men (the CEOs of everything else?).
From the presser:
But let's face it, as the CEOs of their households, much of what women do is about making sure the husbands, sons, fathers, and brothers in their lives are put together, stain-free, healthy, and get the trustworthy advice they depend on. In articles like "The Husband Whisperer," which shows how understanding the male mind can improve a marriage; "Lessons From Mr. Clean," which discusses what women can learn from men on the topic of cleaning; and "Your Guide to His Health," Woman's Day's first-ever "Man's Issue" will give American women a rare glimpse into the world of their men.
Insight into men! Craziest thing since the Cosmo sex issue.