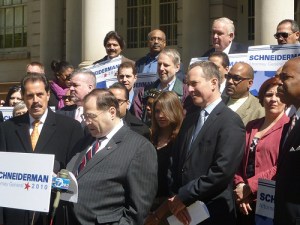 Elana Kagan is on Barack Obama's short list for the U.S. Supreme Court.
Adam Nagourney cautions against using 1994 to predict this year's mid-term elections.
Ed Cox predicts big wins.
Alan Hevesi's legal team says pay-to-play isn't illegal.
Michael Bloomberg gets control of Governor's Island which "would be a major contribution to the physical legacy" of his administration.
It makes A1 of The Times.
David Paterson is OK with giving Eliot Spitzer a second chance.
Fred Dicker said Paterson's budget will be in June, or later. Dicker also hears an anonymous source predict Paladino will defeat Rick Lazio in the primary.
State budget "chaos."
Michael Benjamin calls Paterson's fat tax "regressive."
Charles Hurt says a GOP challenger to Chuck Schumer could raise money nationally.
Beth Fouhy calls Levy one of the "promising dark horse gubernatorial hopefuls across the country."
Levy hits Carl Paladino: "Simply saying, 'I'm mad as hell,' and being a millionaire does not qualify somebody to be governor."
Levy shared an address with a lawyer who pled guilty in a mortgage-fraud scheme.
Jon Cooper of Suffolk is hosting a fund-raiser for Andrew Cuomo.
Rick Karlin sizes up the AG race.
Eric Schneiderman's spokesman calls Kathleen Rice's criticisms of him "sad."
Schneiderman tacks left: "There's something very wrong with this country having 5 percent of the population and 25 percent of the world's criminals."
Schneiderman's endorsers include: Rangel, Serrano, Sampsin, Quinn, and Squadron.

Iraq vet Steve Labate may join the race to challenge Rep. Steve Israel.
Ray Kelly wasn't happy with Joe Hyne's publicity for recent drug busts.
Is Floyd Flake a slumlord?
Betsy Gotbaum said she'll repay the city for any inappropriate travel expenses.
Adam Lisberg wonders what Michael Bloomberg is up to next.
The Post pushes Andrew Cuomo and Richard Brodsky on Indian Point.
A New Jersey congressman wants a probe of the Nets owner's connection to Zimbabwe's dictator.
Celeste Katz says hello, and help.
Liz Benjamin launches SoPo.
Christine Quinn announced an expansion of the city's recycling program whose cost she said will be offset by the amount of garbage it reduces.
Tish James said she expects her committee to pass the recycling legislation "in quick fashion."
8,000 students didn't get the English language services they needed, says Yoav Gonen.
Kids in the Bronx are waiting for their park.
William Hochul Jr. is the new US attorney for Western New York. He doesn't much want to talk about the Steve Kurtz case.
And pictured above is Schneiderman on Saturday, outside City Hall, getting endorsed by a lot of people.