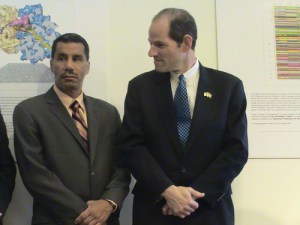 David Paterson likened being governor of New York to begin in quicksand, and said his successor will get run over by the legislature.
The Post says Eliot Spitzer's biggest problem was putting David Paterson in charge of the state.
Gawker: 'How Ashley Dupre's 'Perfect Coochie' Destroyed Eliot Spitzer's Perfect Career.'
Steve Levy is picking up momentum, especially in Western New York.
Ed Cox is sounding more confident about Levy's chances.
New York's congressional delegation wants specifics from Michael Bloomberg.
City Hall will now charge $300 for film permits.
Rep. Mike McMahon opposes the Arizona immigration bill.

The state budget, still not done.
Dean Skelos has a lobbying firm.
Money talks, in Albany.
Health care groups spend a lot to influence lawmakers.
There's a lawsuit to kill pork and deficits, in Albany.
Congressional candidate Matthew Zeller said it's "not a fair question" to ask if he would have voted for the health care bill.
Some Long Island teachers take a pay cut.
And Don't be such a litigious prude, says Cindy Adams.