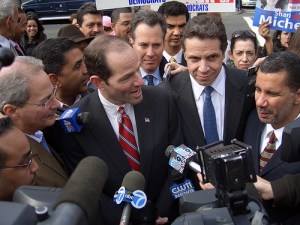 Eliot Spitzer asks of Andrew Cuomo: "[W]ill he have the stomach to pick political fights or to pick fights that will have negative political consequences?"
Will Spitzer vote for Cuomo? "He hasn't answered the hard questions yet about how he will govern the state, so I think it's fair to say, 'Let's wait and see.' "
Sheldon Silver wants Spitzer to shut up.
Other Democrats echo Silver.
The Post has advice for Cuomo: "[H]e needs flatly to refuse the backing of the morally bankrupt Working Families Party."
Peter Elkind excerpts his book on Spitzer.
Silda Wall and Ashley Dupre both declined to appear in the Spitzer documentary.
New York liked the movie.
Howard Kurtz says Cuomo is already running, despite his press games.
Hank Sheinkopf on Cuomo:"Andrew Cuomo wants to be president of the United States."
Soon actually means right before the state Democratic convention, in late May, says Fred Dicker.

Kornaki on Cuomo: "That ideological devotion is utterly absent from Andrew's ultra-cautious, poll-tested style. In this sense, he is not his father's political son – he's Bill Clinton's."
Spitzer "can and must return to public office," writes a student in Indiana.
The WSJ's New York section is here.
Molly Fischer sums it up.
"Michael Bloomberg's praise [of Kirsten Gillibrand was] delivered as he sipped a glass of red wine at Tuesday's Tribeca Film Festival kickoff party."
Bloomberg's life in Bermuda, revealed.
Bloomberg could make Bill Thompson unemployed, again.
Bloomberg and Chuck Schumer are friends again.
Bloomberg and the New York congressional delegation aren't friendly, although Howard Wolfson is trying to change that.
Boomberg's girlfriend endorsed Rep. Carolyn Maloney's Democratic rival.
There's a Republican running for Maloney's seat too.
The Daily News says Christine Quinn must stop discouraging City Council members from providing information about discretionary funding to Bill de Blasio.
Denny Farrell says the state has to borrow money by next week.
"Borrowing solves nothing," wrote David Paterson in a Times op-ed.
Rumors of a WalMart in Brooklyn are already raising opposition.
Only 24 our of 212 state legislators signed a pledge to reform Albany.
Someone running for governor lost the Cindy Adams vote: "[J]ust wrote me giving me all his personal numbers 'so we can always be in touch.' To say what? 'You're an ass?' Makes you want to re-elect Paterson."
And if E.J. McMahon and Nicole Gelinas wrote a skit for the Inner Circle or LCA Show, it would probably look like this SNL skit.