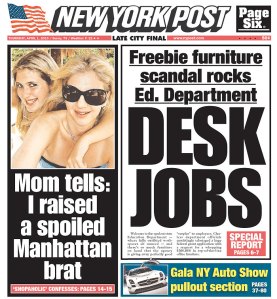 So long on-time budget.
The state wanted to buy fancy desks and chairs with Race to the Top money.
Extra furniture in Albany can be taken home.
Michael Bloomberg didn't seek a new ruling from the Conflict of Interest Board when he changed Patti Harris' tittle at his charitable foundation.
"It does not appear the foundation has established any guidelines on how to keep [Harris'] roles separate."
An aide to Malcolm Smith who also played a role in the controversial New Direction Local Development Corp., Joan Flowers, is out of a job.
Rep. Charlie Rangel compared health care critics to those who opposed the civil rights movement.
Rep. Scott Murphy's GOP challenger will be Chris Gibson.
One of Rep. Mike Arcuri's Republican challengers sent out a video showing a fight in which his nose was broken.
David Paterson fears the cost of special election for Rep. Eric Massa's seat, but says he "didn't raise those issues last year when he called special elections to fill vacancies in two other congressional districts."
Kirsten Gillibrand heads to Haiti.
New York's 'three strkes' law is ruled unconstitutional.
It could lead to a lot of legal challenges.
"Orange County Executive Ed Diana, on vacation this week for the third time in seven weeks, will have missed 15 of the last 34 work days by Friday, according to his appointment calendar."
Fernanda Santos hangs out with census workers.
It's above the fold.
DJ ignored reporters questions, including whether he ever assaulted a woman.
DJ's lawyer won't say if his client pleaded the fifth when talking to investigators.
The Aqueduct probe continues.
Schools doubt they'll ever get money from the state.
Teachers may be offered early retirement.
The WFP tries getting the MTA to re-post their WTF posters.
The Tea Party is one year old.
Andrew Cuomo is reportedly investigating a firm that failed to warn about Bernie Madoff.
Norman Siegel wants to unshackle parade-goers.
John O'Hara blames DA's for the uptick in crime.